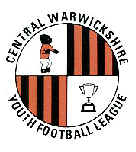 Central Warwickshire Girls Football league
Welcome you
Girls Football is one the fastest growing sports in the Country. We are proud at the CWGFL to be at the for front of this with one of the biggest Girls Leagues in the Country.
This web site is here for two reasons:
To give information to Clubs who are already in the CWGFL.

To Give information to Clubs who wish to join or for Girls make contacted with Clubs.
So what's in the web site. All the Clubs have there own page you have two way of finding them by clicking on the links on you left at the right are group.
Under 10s School years 4/5

Under 12s School years 6/7

Under 14s School years 8/9

Under 16s School years 10/11
Or by clicking Teams. Also in the web site is information about Meetings, all the latest News, Rules and Hand Outs also one of the biggest Links Pages.
For all you team photos contact Les or see AJs Photograhpy